Oil distribution system: WORKY systems
Oil distribution system: WORKY systems

Bringing oil and fluids from the storage tanks to the point of use may seem like a simple operation, but each component used for this purpose can have a significant impact on performance and any waste. It is therefore necessary to choose oil distribution systems constructed with the greatest attention to detail. WORKY designs, supplies and installs highly efficient oil and fluid distribution systems, for car, motorcycle and truck workshops.
An engine oil and fluid distribution system allows for correct inventory management and speeds up filling and topping up operations, as well as limiting and optimising costs.
Our oil distribution systems also meet the needs of large and small service centres.
So let's find out more about them.
The advantages of having WORKY oil distribution systems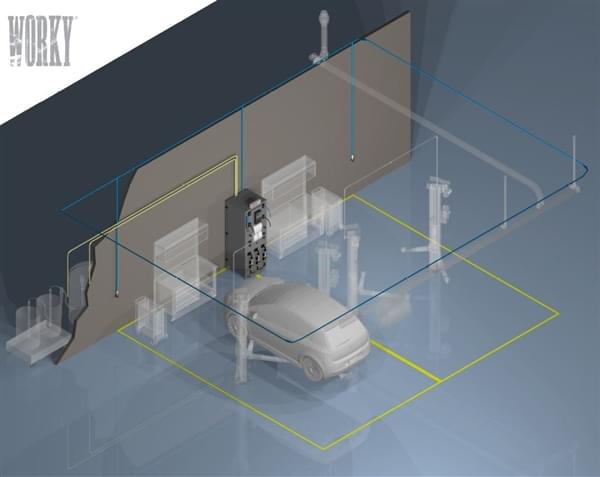 The flexibility of the range of solutions studied by WORKY solves the most varied needs and offers various advantages, including:
optimisation of operations and space occupied by equipment;
an increase in work pace, without delays due to waiting;
an increase in margins, because they allow large quantities of oil to be purchased and allow faster distribution;
greater cleanliness and order in the work area.
How WORKY oil distribution systems are made
Generally classified as dispensing systems, oil distribution systems can be made up of multifunctional structures, guns and hose reels. Let's find out about each element in detail.
Multifunctional structures
These are solutions for fluid and service distribution in the workshop. The structures are made of painted sheet metal and are suitable for the distribution of lubricants, compressed air, electricity, grease, antifreeze and all the technical fluids that can be used in motorcycle, car and truck repair shops.
The WORKY multifunctional structures differ by the number of services that they can carry, starting from the compact RANGER, which houses up to 3 hose reels for oil and 2 for air or electricity, to the FRMF structure that can house 4 or 6 hose reels and also the large MULTIPLO, a multifunctional service station, which reaches up to 10 utilities and which can also house a drum with a grease pump, exhaust extraction and even a customisable work bench.
Guns
The end part of an oil distribution system is almost always a gun, that is, a valve which uses a trigger to allow the fluid to pass.
WORKY guns have comfortable grips, universal nozzles and a useful drip-catcher terminal. They are also available with or without digital flow meters.
Different colours, materials and dimensions characterise their specific use for each application.
Hose reels
The WORKY range hose reels are designed for different lengths and with different types of hoses so that they can always adapt to the application (for oil, antifreeze, electric cables, water or compressed air).
Steel or plastic, open or enclosed compact models characterise our range of hose reels to deliver fluid directly into the vehicle engine in a much faster, more comfortable and cleaner way.
The WORKY range also includes a series of useful accessories, such as containment tanks in various sizes and for various needs.
Smart oil distribution systems? WORKY makes it possible
WORKY oil distribution systems can be integrated with computerised management thanks to QAM, a very advanced monitoring system for the supply of technical fluids in the workplace.
The system works by means of solenoid valves with flow meters mounted on the oil supply lines, plus a computerised system that manages the data deriving from the delivery of each fluid.
The quality, design and reliability of the QAM monitoring system has made it an essential management tool to reduce pollutants, to avoid waste and shortages, to contain costs and increase the profits of each workshop.
In addition to this series of tangible advantages, the tool shows itself to be more essential than ever for compliance with environmental protection laws, for which traceability between the quantities of each lubricant purchased and sold is now required.
Design your custom oil distribution system with us.